Genexa Stress Relief
$24.56 – $245.58
Description
Genexa Stress Relief is a product designed to alleviate the symptoms of daily stress brought on by many of the modern living and many of the issues that have plagued humans from the beginning of our existence. What is different about this product from many of the modern attempts by large pharmaceutical companies is that it does not rely on restrictive medications that require authorization from a registered physician. Instead Genexa Stress Relief utilizes a long list of ingredients which are well-respected among Homeopathic practitioners. Further it is said to use only Non-GMO elements which only enhances its claims of being all-natural.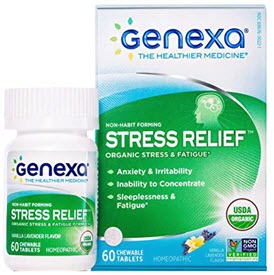 Organic Aconitum napellus 12x; Calcarea carbonica 8x; Organic Gelsemium sempervirens 12x; Organic Lycopodium clavatum 12x; Organic Nux vomica 12x; Organic Passiflora incarnata 3x; Organic Valeriana officinalis 3x Inactive Ingredients: Organic Carnauba Wax, Organic Compliant Natural Flavor, Organic Maltodextrin, Organic Rice Bran Extract, Organic Dextrose.
The important thing to understand about the long list of ingredients in this product are the benefits that they are claimed to produce. Among them are the ability to reduce stress, agitation and hypersensitivity. Some elements are supposed to decrease anxiety and sleeplessness while others claim to lower fatigue and restlessness. Yet more are supposed to help with the inability to concentrate, irritability and even anticipatory anxiety. Some are added to deal with apprehensiveness and the inability to think clearly. Others were added to aid with restless sleep and general stress while others focus on nervousness and digestive tract disorders.
Genexa Stress Relief: How it Works
Genexa Stress Relief is a homeopathic health aid and is FDA-registered. The set of homeopathic ingredients are said to be blended to work fast and help to re energize many of the human body's natural processes which would normally deal with many of these stress related issues but which have been largely compromised in older segments of the population, especially in more highly developed regions which tend to experience a faster pace of life and greater stresses which have not been known to exist in areas with slower and more natural ways of life.
Genexa Stress Relief: Price
While we could not find an official product site for Genexa Stress Relief, our research shows that it is available across a wide swath of well-known online retail outlets including Amazon.com, Walmart.com and even eBay.
Additional information
| | |
| --- | --- |
| Choose Quantity | 1 bottle (60 tabs), 2 bottles, 5 bottles, 10 bottles |